Article:

Continuous Track Monitoring
Developed and deployed on the Deutsche Bahn Network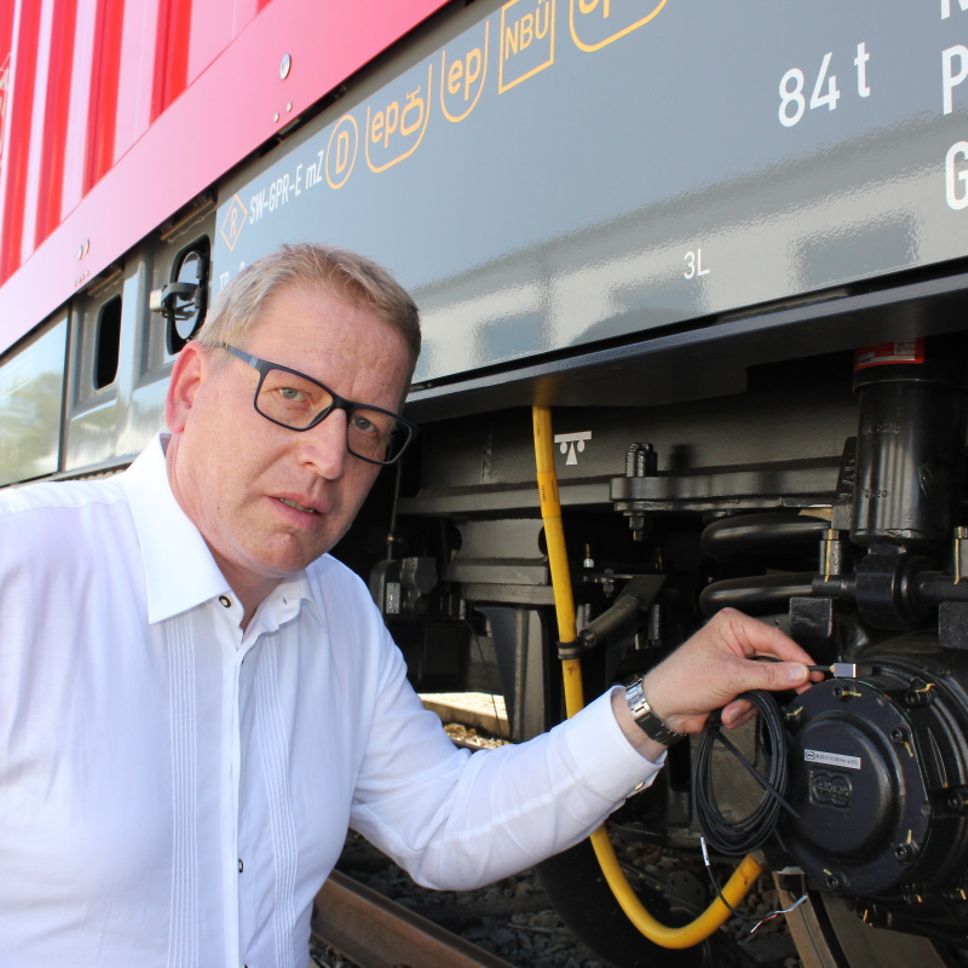 Dr.-Ing. Klaus Ulrich Wolter is a senior engineer in the Engineering Department of DB Systemtechnik, the specialist, 800 strong, rolling stock arm of Deutsche Bahn AG.  Based in Munich Germany Dr Wolter has led the development and introduction of a Continuous Track Monitoring System (CTM) that utilises passenger rolling stock to collect data on track quality.  Collected data is assessed to provide valuable information for the track maintainer.
What is continuous track monitoring (CTM)?
Traditional data collection approaches to the monitoring of infrastructure has seen the development of bespoke vehicles, often specifically procured or significantly adapted for this sole purpose.  This is costly in terms of initial capital investment and also leads to ongoing maintenance costs because the trainset has to be maintained.
Continuous Track Monitoring (CTM) has been specifically designed to overcome both of these potential cost barriers, as well as alleviating the requirement for specific operating paths.
Firstly the footprint of the equipment selected has enabled our team at Deutsche Bahn Systemtechnik (DBST) to develop a design that can be deployed on regular passenger rolling stock.  Secondly the equipment is virtually maintenance free, hence there is no additional maintenance cost burden on the vehicle operator.
 Figure 1 (Inspection and rectification scenarios):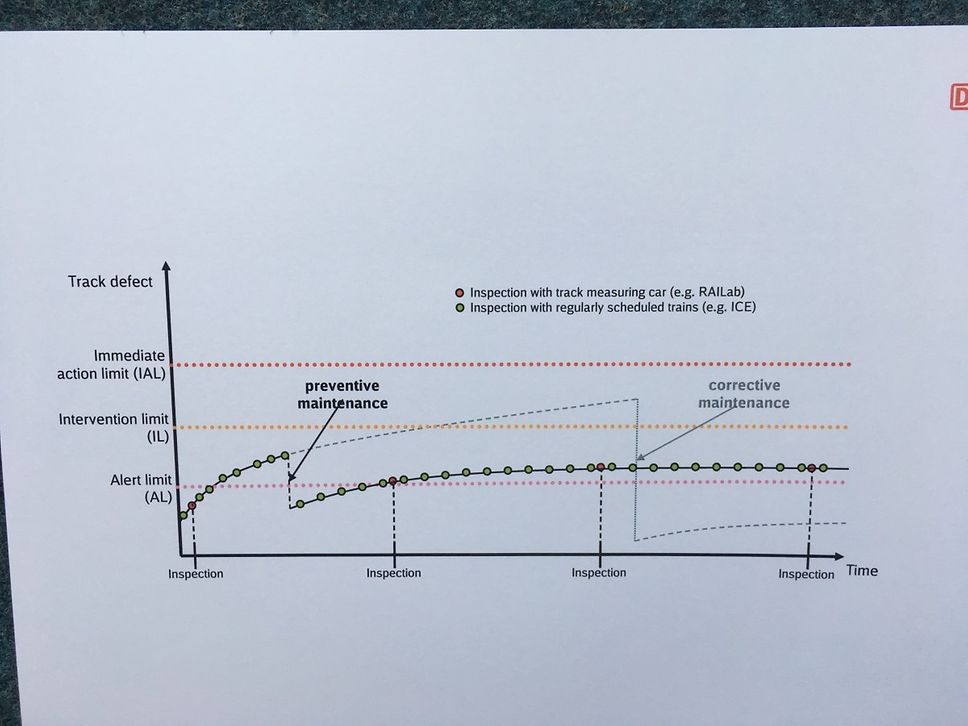 On Deutsche Bahn AG the equipment has been deployed on both on Siemens ICE and Stadler Flirt trainsets.
The system commenced operation in 2013 on an initial 210km.  At the present time CTM systems cover in excess of 2,400km of track, with further expansion planned.
So how does CTM work?
In very simplistic terms, the system collects acceleration data that is representative of the rail head condition and transmits this via cellular or Wi-Fi networks to the DBST servers.  This acceleration data is combined with accurate position and time information, so that the location of any features of interest can be accurately determined.
Without careful analysis this data is pretty much meaningless.  This is where an algorithm, developed by DBST over a three year period, enables true benefits to be realised.
Figure 2 (Defect growth rates can be monitored):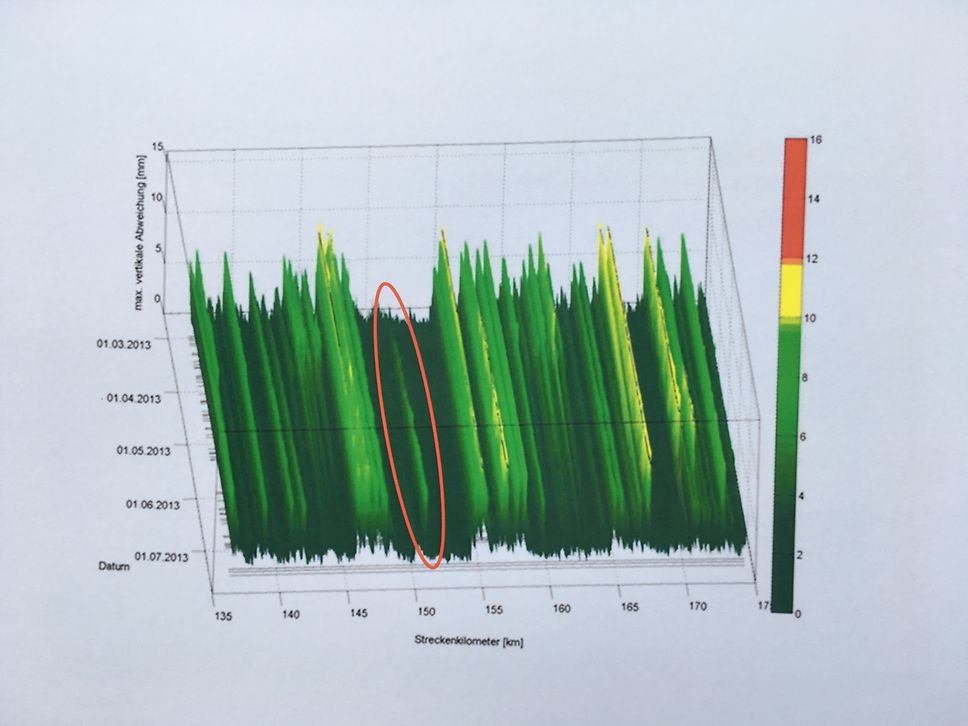 The DBST algorithm is used to process the 'raw' data to provide a true reflection of the rail top condition to be determined.
The difference with CTM and specific track recording vehicles is that CTM collects data on a day after day basis, as part of normal passenger service operations.
This enables trends to be identified, in advance of maintenance intervention limits being reached. 

What value does it provide?
The true value of any 'Predict and prevent' technique is not realised unless there is a real change to the current maintenance processes and techniques.  This is where the benefit of 'Continuous Track Monitoring' comes in to its own.
CTM collects data 'day-in, day-out' and this allows the development of track defects to be monitored and their rate of change observed.  This enables the track maintainer to identify defects earlier in the developmental life-cycle and deploy preventative maintenance techniques.  This provides two fold benefit, as the preventative maintenance;
requires less intervention (i.e. is less costly to undertake)
can be completed outside of core operational hours (i.e. raises infrastructure availability)
Figure 3 (Reduction in notable track defects):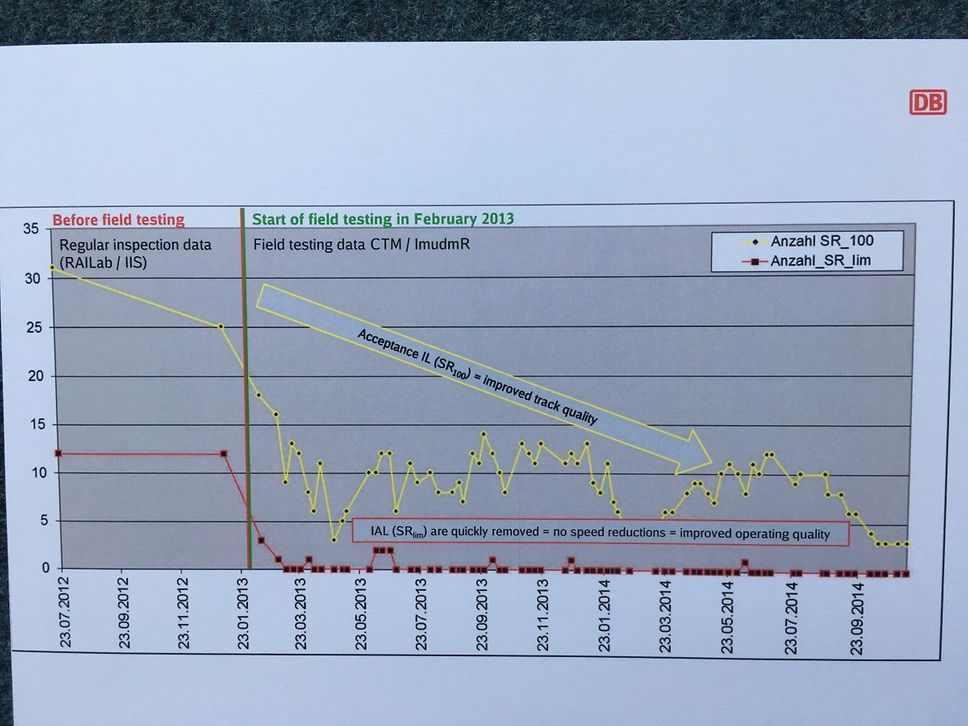 As CTM continuously provides data about the track condition on the route it can also be used to establish the effectiveness of the maintenance intervention.
Knowing that a particular maintenance technique has been successful or not, is extremely powerful and can lead to the development of more effective and consistent maintenance approaches.
How can we help?
DB - ESG is the route to market for the DB Systemtechnik and DB Engineering and Consulting product and service portfolios in the UK.  We can rapidly deploy existing and proven solutions on to the UK rail network, enabling values to be realised earlier in the project lifecycle.
Talk to the experts
To understand how DB's CTM approach can benefit you here in the UK, contact us directly via db-esgrail@deutschebahn.com