Article:

Additive Manufacture of Class 165 grab handles
(Derby, July 2020) DB ESG are working in collaboration with Angel Trains on projects that incorporate 3D printing solutions (also known as additive manufacturing or AM) to address UK rail industry challenges.
Individual Project Background
Chiltern Railways' Class 165s are fitted with cast aluminium grab handles, however the original manufacturer of these has ceased trading.  The original engineering drawings are unavailable, and the last remaining spares have already been utilised.
A replacement handle therefore needed to be provided, ideally one that matched the existing part to avoid a wholesale change-out of grab handles.
Sourcing replacement parts that are manufactured via traditional methods, such as casting or injection moulding, for rail vehicles is prohibitive.  These methods require large upfront investments in tooling and moulds, which if only a small number of parts are required, can significantly increase the cost. However, the greater issue is the risk introduced into the design process.  Given the investment in moulding and tooling required, regardless of order size, it is crucial to get it right first time.  This substantially increases design costs, because of the need for increased verifications and leads to a risk of wasted investment as the first parts produced may not fit.  All of this also substantially adds to the lead time required for new parts.
Using digital manufacturing mitigates these issues.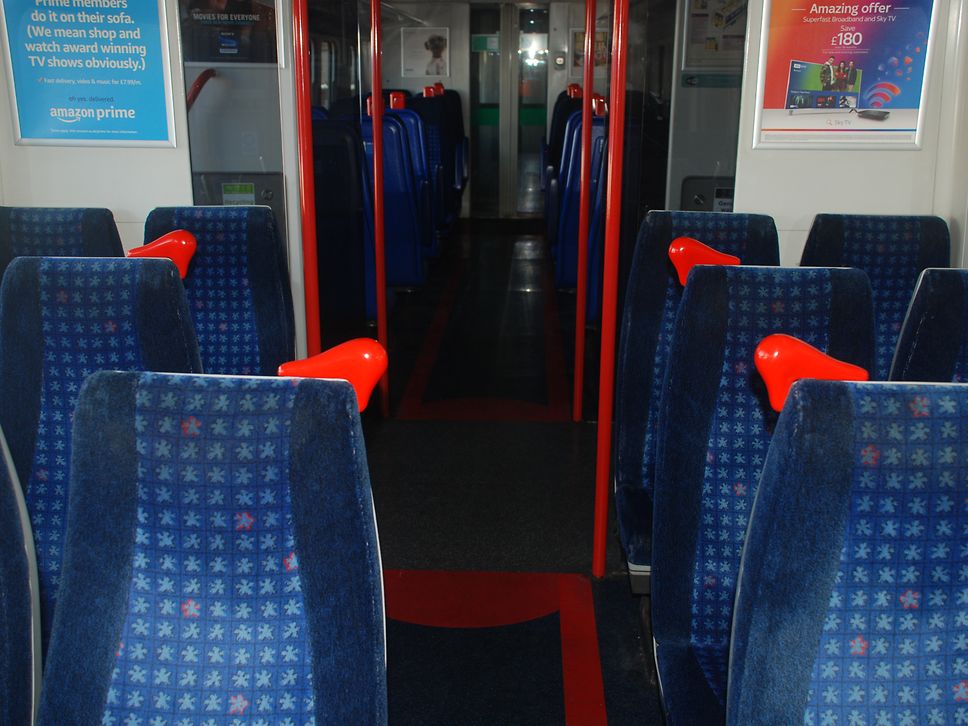 Work Undertaken
The current handle was 3D scanned at depot. Due to the complex, curved shape of the grab handle, reverse engineering would have been challenging using conventional manual methods.
The scan was converted into a 3D model, this process allows components to be modelled accurately and easily.
The replacement handle was designed for fused deposition modelling (FDM) and then 3D printed using Stratasys' ULTEM 9085 black, a fire compliant polymer. The current handle was a cast aluminum hollow shell; however, the replacement handle is made from a solid block of material, with the addition of low-density interior volumes for weight and cost optimisation. The new handle utilised two CNC-machined metal inserts adhesively bonded into the ULTEM body which served as the attachment points to the seat shell.
A prototype part was printed for assessment and trial installation.
During trial fit, a high level of seat shell variation was discovered, hence the new part did not fit several of the seat shells.  If traditional manufacturing methods had been used, a complete rework of the project would have been required at significant expense.  However, using Digital Manufacturing, the design could be quickly altered, and a new test part printed before sending the new design for production.
The design therefore went through several iterations using prototypes 3D printed from lower grade materials (both prototype handles and prototype inserts). Through the prototyping and testing stage, the design was eventually refined to include captive fasteners that allowed a degree of adjustment. These ensured that the handles always fit perfectly to the highly variable seat shells.
Once the final design was printed in ULTEM 9085 it was sanded and painted to match the original handle using a common rail-grade coating system.
Seven grab handles have completed an in-service trial and will remain fitted for the duration of their component life with Chiltern Railways.
The full cost of the 3D printed replacements, including design and prototyping was 78% cheaper than the cost of producing via the conventional method. This digital workflow also reduced lead times. It traditionally would have taken 4-5 months to produce these grab handles, the new method allowed production in just days.